Personalized Memorial Stones for Loved Ones
Your Loved One Deserves a unique way to be remembered
Loving Letter From Loved One in Heaven
Finding Comfort in Meeting Again In Heaven
Give them the best, even in their absence
Feel Closer to Deceased Loved One in Heaven Again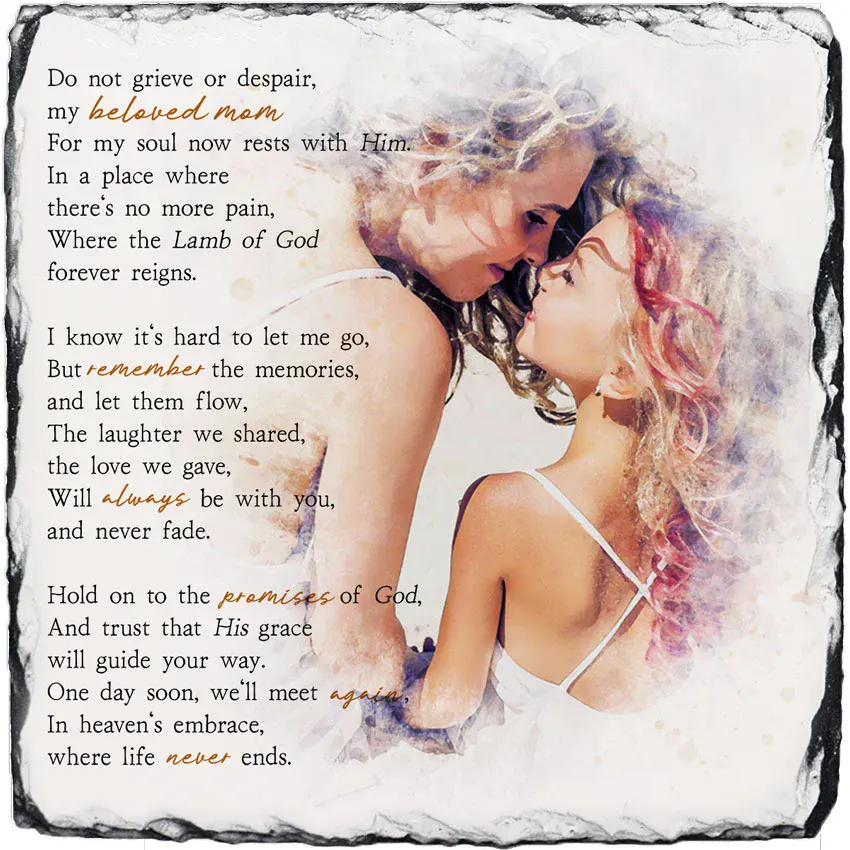 You don't have to settle for a generic remembrance.
Personalized with a picture of loved one.
Personalized with Nickname that Your Loved One used to Address you.
Heartfelt letter that departed loved one wish they could write to you.
Designed with a watercolor image for a beautiful and unique aesthetic.
Made of high-quality lithograph for durability.
Sentimental gifts for someone who lost a loved one.
Experienced the healing power of being held in loving embrace – Soothe your overwhelming weight of grief and loss with GraceCarve© personalized memorial stone
Acknowledge Hopeful Reunion with joy – Fuel your anticipation for a joyous reunion in the afterlife, where eternal happiness awaits.
Express gratitude for departed loved one – A gesture of being grateful for their presence in your life.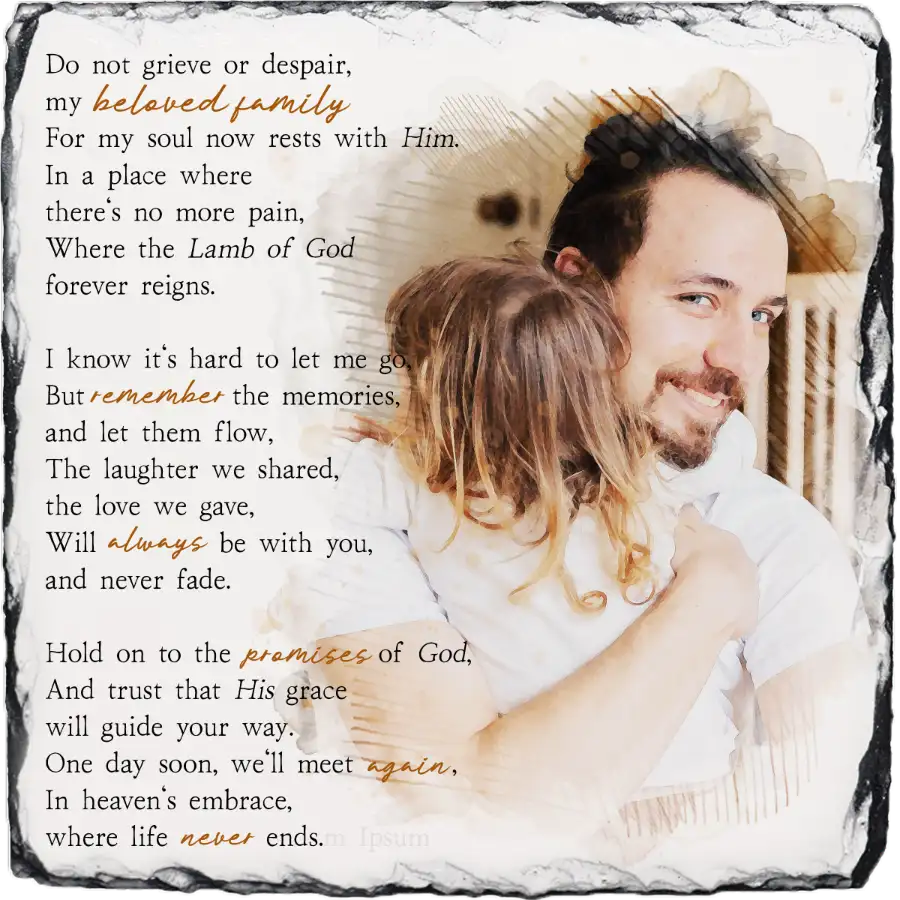 Remembering your loved one with a unique lithograph and heartfelt letter from heaven.
"I can't begin to express the comfort and solace I've found through this personalized memorial stone. Losing my sister was one of the hardest things I've ever faced, but this beautiful tribute has allowed me to feel connected to her in a whole new way. It honors her memory, keeps her alive in my heart, and reminds me of our cherished moments together. Through faith and this tangible reminder, I've found the closure and peace I so desperately needed. It's a blessing for me and my children to treasure. Thank you, from the depths of my Louisiana soul"
Hannah Elizabeth
Give your best to your loved one, even if they're not around
"I can't begin to express the comfort this here GraceCarve personalized memorial stone has brought to my grieving heart. Losing my son was like losing a piece of my soul, but this stone has become a sacred link that connects me to his spirit. It reminds me that he is now in a better place, bringing me solace in these tough times. Thank you kindly, with all my heart."
Savannah Grace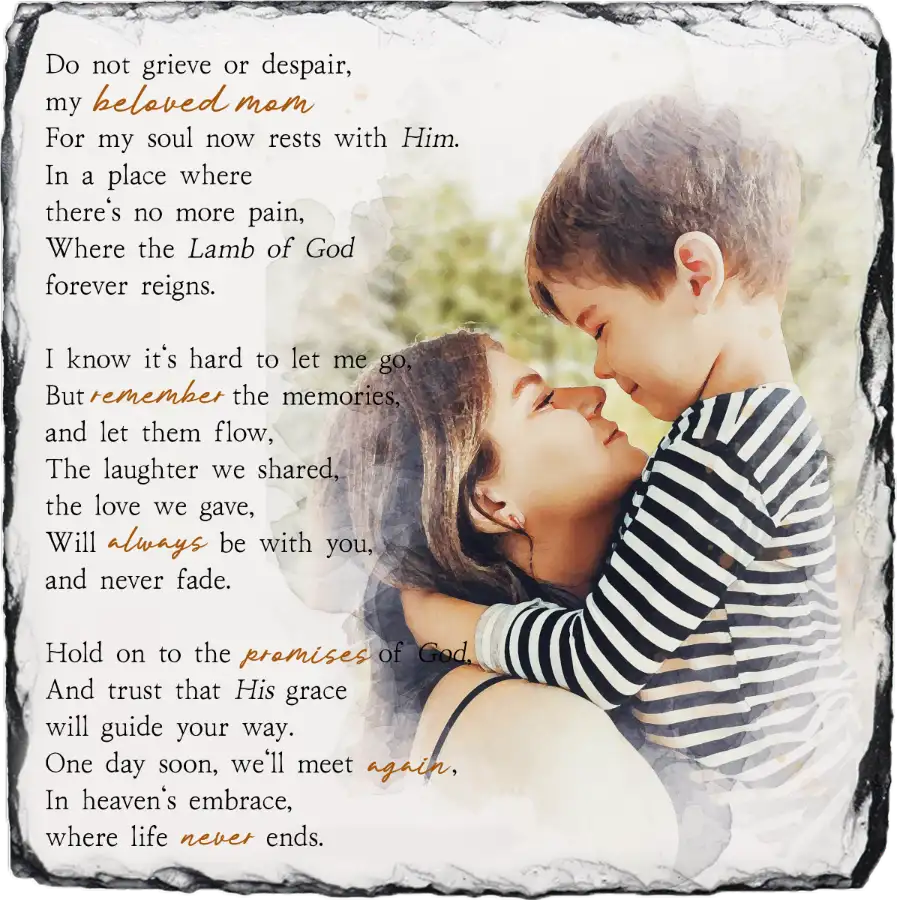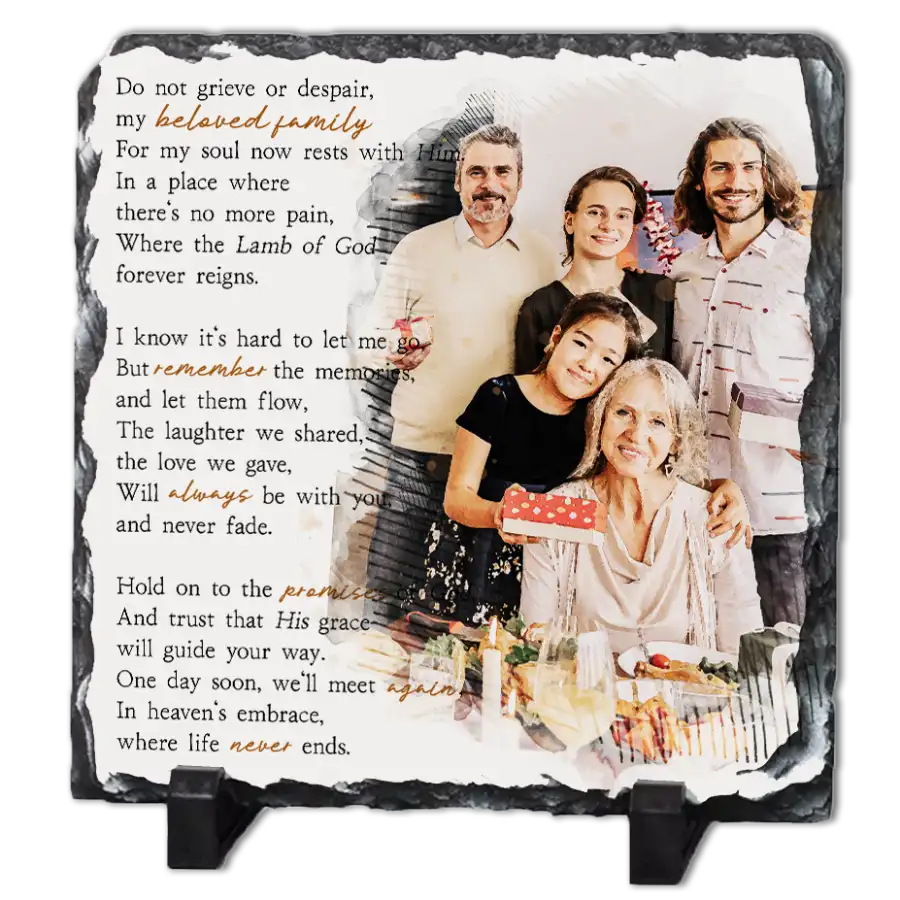 Here's a story from one of our satisfied customers:
"Losing Mama was a heart-wrenching experience we never thought we'd recover from. But the Gracecarve personalized memorial stone has been a godsend for us. It's helped us cope with the loss, keeping Mama's memories alive in our hearts. It's a tangible reminder that though we can't see her, she's forever with us. With this stone, we've found the strength to move forward, cherishing her legacy and honoring her properly. We're forever grateful, and our souls find peace. Thank you kindly from the bottom of our hearts."
Emily and David
Faithful christian who are now found their closure while holding onto the hope of a joyful reunion in heaven.
"Well, bless my soul! Losing my dear husband was a heavy burden to bear. But this GraceCarve personalized memorial stone has been a beacon of comfort in my darkest days. It brings back cherished memories we shared, soothing my weary heart with nostalgia. It reminds me that though he's gone, our love is eternal, and I hold onto the hope that we will be reunite in the heaven. I'm forever grateful for the time we had together, and this stone keeps his spirit alive in our home. Thank you kindly, with all my love."
Emma Mae Johnson